Noel Gugliemi didn't always live for God.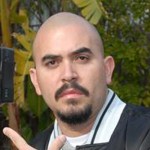 Better known as Noel G., you might recognize him from hit movies like Fast and Furious, Training Day, and Batman Dark Knight Rises. He has also guest starred in popular TV shows like NYPD Blue, CSI, Miami, X-Files, and The Walking Dead. But his wild life as an actor and movie star was wrecking his relationships, his sense of purpose, and happiness. One night in 2008, everything changed. Here's how he tells it:
"Living a life without hope, no care in the world, living from place to place, thinking of suicide, having no other choice than to defend yourself alone in the streets, committing to gang banging, asking yourself, 'What's my purpose in life? What do I do?' You think: prison, drug addict, or killed. Even fortune and fame couldn't bring the happiness I was looking for.
This is my life story in a nutshell that was completely turned around through Jesus Christ. Sometimes in life you chase the blessings rather than the Blesser. Sometimes you have to have everything taken away and hit rock bottom before you look up. The way out is through Jesus who died for us on the cross.
After serving God, I realized how much my daughter really meant to me. Once you really take time out and spend it with your kids, you start to realize how much they need you there. I'm really blessed these days. I now have my own clothing line, a production company where I'm making Christian movies, a beautiful wife, a loving daughter and, most important, God in my life.
You cannot claim a victory without a battle. From the gutter to glory is possible through Jesus Christ our Savior. In short, I didn't know how to handle success or true love without God involved in my life."
When he's not acting, Noel G. is passionate about helping youth. He speaks at high schools, probation camps, and churches about how he turned his life around and how, with God's help, they can too.
"No matter how corrupt you think your life is or what it is you're going through, things can always be turned around by trusting in God, which makes us all Godsterz," he says.
Want an opportunity to meet Noel G. and learn more of his story? Catch him at 360LA this May 15-17! (Early Bird rate expires March 31st.)
REGISTER NOW

For regular resources, information and tools, check out our e-newsletter.