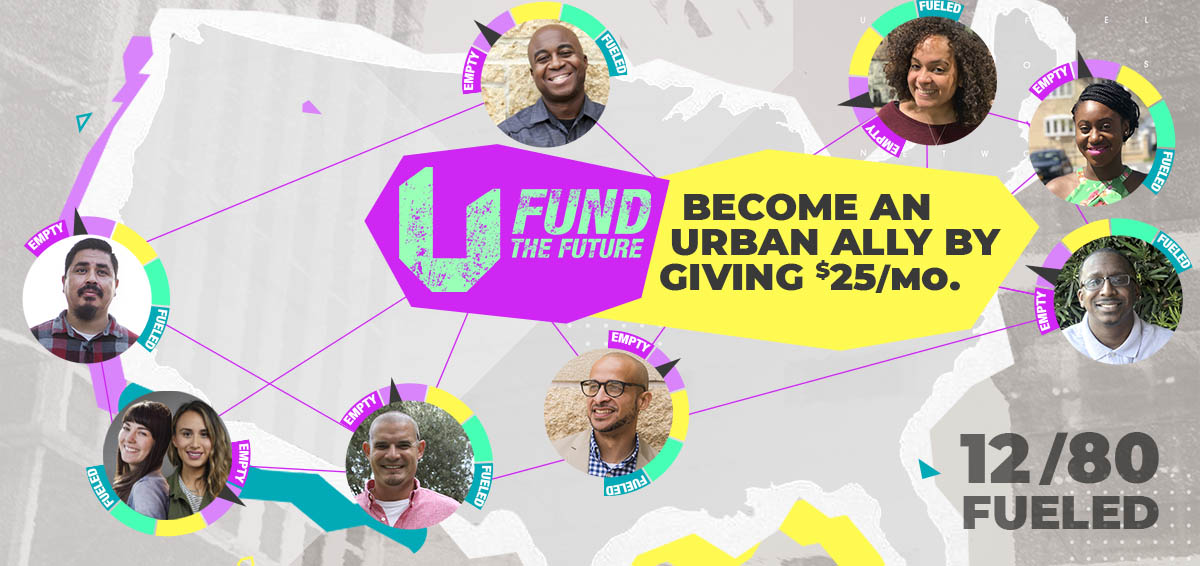 FUND THE FUTURE and become an Urban Ally by giving at least $25 a month to help fuel city networks! Our goal is 80 new Urban Allies to support 8 city networks across the Country. Already an Urban Ally? Increase your monthly giving by any amount to support the initiative!
Due to COVID-19 the urgency and need of our front line leaders to reach their youth prompted us to create city networks. We've been able to create 8 networks and commission leaders to carry the charge across the nation. These 8 networks & leaders need your support to continue to be resourced and trained so that this next generation not only hears the Gospel but sees it lived out in the lives of our leaders. These are trying times. Let's continue to partner.
You keep funding the future, We'll keep doing the work.
BECOME AN URBAN ALLY AND GET EXCLUSIVE PERKS:
• Swag Drops
• Discounts to Events
• Access to Donor Community on Mighty Networks
• First Look at Communications
New Urban Ally donors get this patch:

Participate with us in transforming communities globally through excellence in leadership
During this pandemic, our leaders are continuing to reach youth with the Gospel of Jesus Christ to bring hope to communities across our nation. But here's the thing, before this pandemic, over a million young people were leaving the church every year. Our vision is to fuel a movement of urban leaders who will reach generations of youth to restore and rebuild broken communities globally. We know that the economic fallout from this pandemic has not fully been realized and so we are preparing for the future to make sure that the work of our urban leaders continues.
Now more than ever, we are called upon to make a difference. We need your help to make sure that urban leaders have what they need to continue to fight on the frontlines.
2019 was an incredible year at UYWI! There has been much change, including the transition of our beloved Founder, Dr. Larry Acosta. Yet, in the midst of this significant new season, God has continued to #DoTheWork of moving UYWI forward for the purpose of resourcing and training high impact and high capacity leaders who dedicate their lives to the transformation of youth across the globe through the Gospel. As we enter 2020 we continue our calling of investing into the leaders of the future, because #TheFutureIsHere!
Will you join us?   [ View Full Report ]
Tommy Nixon
Chief Executive Officer
We take financial accountability and good stewardship for our generous supporters very seriously. As a 501c3 located in the State of California, we make our financial statements available upon request, however, you may select and view any of our recent IRS 990 Forms below.
RESOURCE PARTNER/DONOR PRIVACY POLICY:
Urban Youth Workers Institute will not share or sell a resource partner/donor's personal information with anyone else, nor send donor mailings on behalf of other organizations.