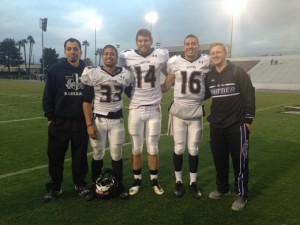 I joined San Gabriel Valley FCA as an Area Rep over 2 years ago and have been blessed to lead 5 FCA campus ministries in our area that range from elementary schools to universities. We reach up to 800 students per week with the Gospel of our Lord! The eternal rewards are rich although the challenges we face in Whittier and the surrounding neighborhoods are real. The Whittier area is predominantly Latino and its communities have a high rate of fatherless youth who struggle with drugs, alcohol, violence and immorality. With these challenges, a leader needs to be equipped with ministry tools that will impact the next generation. Through UYWI's 90 Degrees Program I am currently learning how to be a healthy and competent leader.
One of the most important things I have learned in UYWI's 90 degree program is that leadership is not a "one size fits all." Leadership comes in many different ways. Leaders are created differently, with different strengths and weaknesses. We must appreciate and embrace the different styles of leadership in order to truly have a successful ministry. My approach to developing FCA student leaders has been transformed by the leadership development tools I have attained in UYWI's program. My leadership training has gone from trying to fit every leader into the same mold to appreciating each leaders strengths and using their strengths to their full potential.
Serving a Father Wounded Teenage Girl
A local high school girl (Tina – not real name) was really struggling through her teen years. Tina never had a relationship with her father throughout her childhood and lived with her brother and her single mom who nearly committed suicide. Tina was rebelling against her mom and all authority and she was eventually kicked out of high school. She was sent to a continuation school where she got involved with the wrong crowd and began dating an abusive boyfriend. Tina later moved out with him and was living in motels and in his car. Her rebelliousness and immorality sent her on a downward spiral.
2 ½ years ago I began building a relationship with her and her family. Since she came from a fatherless home I was able to connect with her and her family quickly. I invited them to every FCA event, outreach and camp that we had. The family would attend many of our events yet her heart was still hard. However, I didn't give up. I invited Tina to our summer camp last year and she had a life changing experience there. She finally surrendered her heart to Christ at camp and turned from her sinful ways. She broke up with her boyfriend, went back to school and regularly attends church every week. She has even began serving in the children's ministry! I have been blessed to see what God is doing in her life!
Thank you UYWI for empowering me to lead the next generation to Christ!
Oscar Garcia, Fellowship of Christian Athletes (FCA)
Area Representative – Whittier