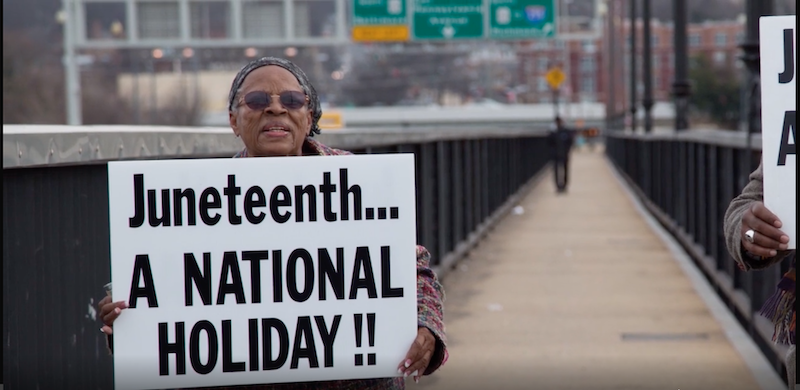 Today we celebrate. But we also grieve that it's taken 156 years for African Americans to be included, truthfully, within the history of America and the American Dream.
TEARS WELL UP IN MY EYES
As I sit here watching the signing of Juneteenth as a national holiday, tears well up in my eyes. I think about what my ancestors had to endure for this day to be made possible: the lynchings, the oppression, the fights, the marches, the restless nights, the trauma, the health issues induced by the stress of being seen and treated as less than human.
My heart cries out…
I watch legendary modern-day freedom fighters, standing shoulder-to-shoulder with President Joe Biden and Vice-President Kamala Harris, smiling with dignity because, on June 17, 2021, they're finally seen as a part of this nation. Today, all of us are finally being celebrated as free on this soil. A soil that, since its inception, has been riddled with the sin of racism. But today, we celebrate where we have finally come.
This day was born on the backs of individuals like 94-year-old Opal Lee, who believed in her heart that "we shall overcome," as she set out on foot from her home in Fort Worth, Texas, with the goal of reaching the nation's capital. Determined to see Juneteenth become a national holiday, she hoped that "surely somebody would notice a little old lady in tennis shoes." The "Grandmother of Juneteenth" now stands in the white house watching President Biden sign her dream into reality. Can you imagine being that woman who has dreamt of freedom for almost 100 years, watch it come true? During that moment, I, a Black woman, imagined myself in her shoes as the miracle of God's grace and love overcame.
For those of you who need a little history lesson on why today is so monumental, here you go:
Juneteenth, also known as Juneteenth National Independence Day, Freedom Day, Jubilee Day, Liberation Day, and Emancipation Day, is a holiday celebrating the emancipation of African-Americans who had been enslaved in the United States. Originating in Galveston, Texas, Juneteenth is now celebrated annually on June 19 throughout the United States, with increasing official recognition, and this week became a federal holiday.
This proclamation was set into motion on June 19, 1865, when the announcement of General Order No. 3 by Union Army General Gordon Granger, proclaimed freedom from slavery in Texas. This proclamation, which ruled slavery as illegal and called for all African American slaves to be set free, would reach all 50 states.
A HISTORIC DAY
Fast forward 156 years later, Biden/Harris did what none of our forefathers had the guts to do. Our country has finally acknowledged that until all of us are free, none of us are free. UYWI family, injustice of any kind should make us as believers tremble. Why? Let's turn to the Bible and learn from God's chosen people.
John 8:31-33 NIV: "To the Jews who had believed him, Jesus said, "If you hold to my teaching, you are really my disciples. [32] Then you will know the truth, and the truth will set you free." [33] They answered him, "We are Abraham's descendants and have never been slaves of anyone. How can you say that we shall be set free?"
As written in scripture, Jesus checked the arrogance of the Jews who felt because of their chosen bloodline, their heritage, their nationality, they did not need to be set free.
John 8:34-36 NIV: Jesus replied, "Very truly I tell you, everyone who sins is a slave to sin. [35] Now a slave has no permanent place in the family, but a son belongs to it forever. [36] So if the Son sets you free, you will be free indeed.
I love these verses because they get at the heart of so many apathetic non-Black Americans. For some of you reading this, you may be saying things similar as the Jews:
"I was never a slave."
"I never owned slaves."
"I am not concerned with American politics."
"I am not black so why should I care about Juneteenth?"
GENERATIONAL SIN IS A REALITY
If this is you, UYWI family, allow me to encourage you. As people of God, we must deal with the truth of our sins, our fathers' sins, and our fathers' fathers' sins. Generational sin is a reality, and it wreaks havoc. As U.S. citizens and believers, we must embrace the truth about the sins in our collective history and allow the truth to set us free through Christ. As President Biden mentioned, "Great nations don't ignore their most painful moments … they embrace them." Likewise, Christ does not call us to ignore the sins we have committed. Instead, we must acknowledge them, turn to God, and walk toward repentance, healing, reconciliation, and restoration.
Today, as a Black woman and a Christian, I am reminded that we must know our history. We must see the truth of our country's inception. We must grapple with the injustices we have participated in, and we must not be slaves to hate and sin. Racism and slavery are sins—bottom line. And today, my friends, we are walking towards freedom.
ABOUT THE AUTHOR: SHUREE RIVERA
UYWI's Creative Director, Shuree is also a recording artist, writer, Community Outreach Coordinator, and a Creative Arts Lead who has toured nationally. Shuree has led dynamic experiences using the power of artistic creation to bring diverse people together. She loves Negro Spirituals and loves to celebrate Black History Month with her friends. Check out her inspirited cover of the song 'Oh Freedom!' in honor of the struggle.
Check her out on Instagram @shureemusic